This is exactly what we've achieved for a number of our clients over recent months. Maybe we could do the same for you? Whether you're working on your own brand or on behalf of clients, you can't beat a bit of time-saving automation and innovative insights. Recently clients have told us Adoreboard is saving them a full wage and winning them new business…
Yes, you heard correctly; by using Adoreboard, one full person could ditch tedious reporting and start working on revenue-generating activities.
Beyond that, we've helped clients win 6-digit business contracts and secure repeat business. With this in mind, we thought it was time to reveal some of the new features that are saving – and earning – our clients a small fortune…
What Does Adoreboard Do?
For those who aren't sure what Adoreboard does, lets recap.
Adoreboard tracks brands, campaigns and events in real-time across the web; social, news media and blogs. Our technology then applies emotion and sentiment analysis and presents it back to you in a simple manner.
The Emotion Differentiator
It's our advanced emotion analysis that sets us aside from the competition, giving you more insight and intelligence than sentiment alone.
As an example, rage and terror are both negative, but clearly very different emotions. These emotions should be responded to with appropriate communication. Sentiment analysis cannot give you this insight and context.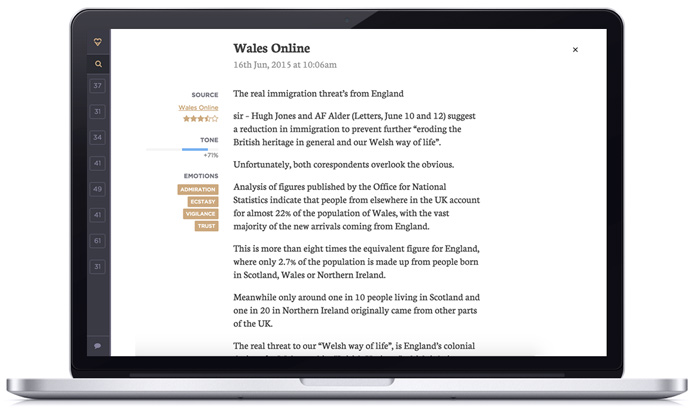 The Adorescore is our key metric.
It takes into account authority, emotion, sentiment and time, simplifying them into one number; the Adorescore. Of course, you can dig deeper into the data if you wish, viewing key emotions and sentiment for each piece of content.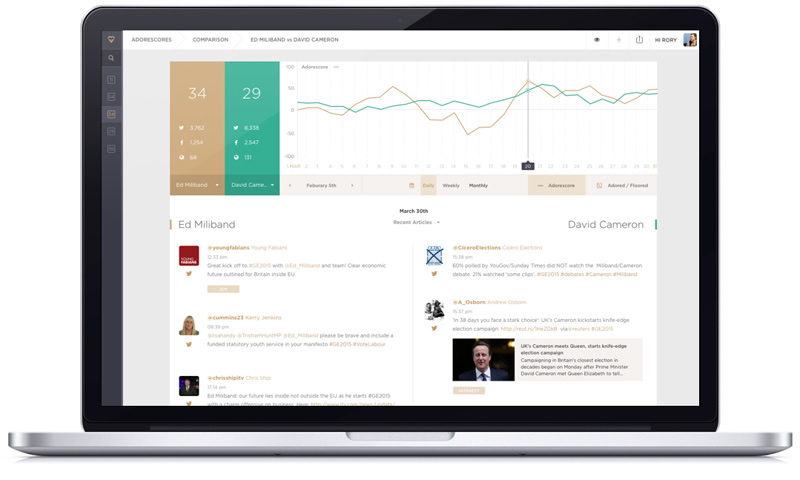 Adoreboard is a "real-time" dashboard, giving you an ever-moving 'ticker' of how well your brand or campaign is doing and therefore the ability to intervene and react quickly; snapping up opportunities and avoiding crisis.
New Feature: Reporting
The reporting feature allows you to summarize any period of time in a customized report. You can include (and re-name) various metrics, upload your logo and save report templates – allowing speedy re-use for future clients or projects.
Each report is formatted for both desktop and mobile email delivery.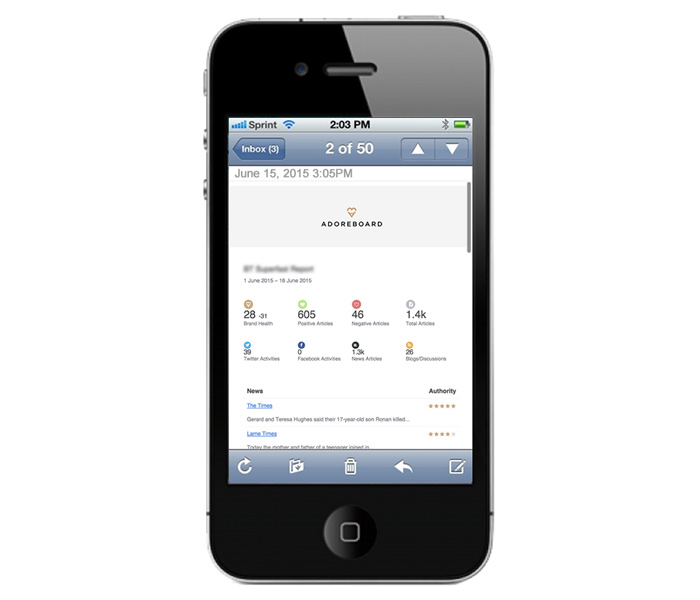 Key content from social and media can be selected for inclusion. Use this feature to showcase the best performing campaign content to your client or manager.
Equally, reports can be used to strengthen you pitches for new business by demonstrating negativity or "tell me something I don't know" insights.
New Feature: Summary Rollups
For every campaign you create, an automated summary rollup can be emailed to you daily, weekly or monthly.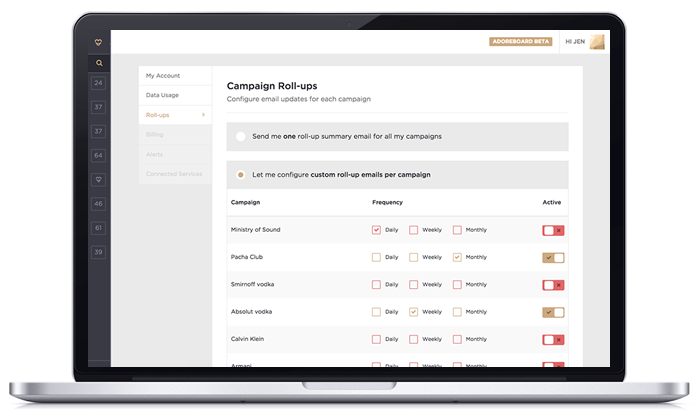 These simple reports are ideal for updating clients on a regular basis regarding the progress of your campaign, especially during those important first few days.
If you're running large numbers of campaigns, we can even roll them all up into one tidy summary.
API & Google Docs Integration
Whilst not public, our API is available to all clients and we can set you up with a connection to Google Docs.
Pull Adoreboard campaign data into your application (or that of a third party) for further analysis, or to compliment an existing data set.

Alternatively, we can send your campaigns to a Google Sheet, allowing you to present and analyze data over time in a familiar spreadsheet environment (better still – download it as a .xlsx and carry out deeper analysis in Excel).
Fancy Saving $,$$$ Monthly?
Seeing the results of all your hard work presented effortlessly in real time makes you feel like a super hero…but saving time and money gets you a promotion.
Adoreboard can help you do both!
Fancy Winning New Business?
Better still; offering extra innovation and insight to your clients wins new business. We've been told;
"Adoreboard kept us in the room and we won an $XX,XXX contract."
Let's have a chat and see how we can help you…then, take Adoreboard for a completely free test-drive.
Click here and book a 15 min slot with our CEO