Adoreboard is seeking to recruit a first year undergraduate student to join its team for a summer placement in Belfast this year. If you are ambitious, hard working, a team-player, self-motivated and eager to learn then Adoreboard is for you!
You'll be joining a fast growing tech startup which measures how people feel about brands online. The opportunity will enable you to gain valuable work experience as part of an award-winning, team developing world class software.
The Tech – Get Your Geek On!
At Adoreboard you will be given the opportunity to learn and work with a variety of technologies including Java, Spring Framework, Text Analytics, Javascript, NodeJS, MySQL, MongoDB, ElasticSearch, Amazon AWS, to name just a few.
Adoreboard uses agile methodology, embraces the startup culture and hosts hack days – days where you get the chance to work on an idea of your own which could in turn help the company. Usually on a Friday, and often followed up with pizza and a pint!
We're a great company to work for…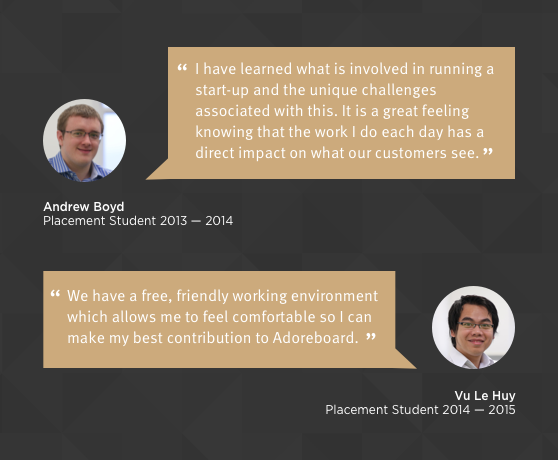 So if you are the type of person who loves to get stuck in, takes ownership and gets excited about deployment then please get in touch. As a small, agile startup you have the opportunity to become a vital team member, fully contributing to the evolution of Adoreboard.
Come and say hi!
Join us on Wednesday 25th February 2015 at The Space, Queens Student Union between 12 noon and 2pm for the QUB Mini IT Recruitment Fair.
Send your details to darragh@adoreboard.com and we'll be in touch for a chat.
NOTE: this opportunity is only open to first year students at Queens University, Belfast. We're always on the look out for great people so if you feel you are a good match please drop us an email – we may have an alternative opportunity for you.